Minsk: Belarus incumbent president, Alexander Lukashenko won the Presidential elections after receiving over 80 per cent of votes, amidst massive widespread protests.
"Data from all closed polling stations applies only to 35,500 people, but still it is very indicative … President Lukashenko gained the biggest number of votes – 81.35 percent. Tikhanovskaya is in second place with 8 percent of votes," Ermoshina said as aired by Belarus 1 broadcaster", Lidia Ermoshina, the chairwoman of the Belarusian Central Election Commission said.
She also said that she will announce the winner of the presidential race on Friday.
"I hope we will announce preliminary results tomorrow [Monday]… and, on Friday, I expect us to know the final results," Lidia Yermoshina said in a comment to Belarus 1, a state television channel.
As soon as that happens, she said defeated presidential hopefuls should concede in order to avoid sowing unrest among their supporters.
"I expect [losing candidates] to be able to accept their defeat. The OSCE guidelines for election monitoring state clearly that a candidate should be ready to lose… to avoid unsettling the people who backed them and who are ready to take to the streets," she said.
As Lukashenko was heading for a landslide victory, massive protests erupted here in the capital, accusing Election Commision of rigging the results.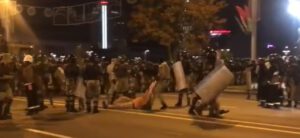 Ex-Presidential candidate TSEPKALO accused EC of falsification, adding that figures do not correspond to reality.
As per latest reports, Belarus police have started to detain people on the Victory Square in central Minsk for participation in an unauthorized rally.
Several thousands of opposition supporters have gathered on the square, and there are about 15 special police vehicles. Detentions of activists are underway. Several ambulance crews are on duty at the site. The traffic in this area is blocked.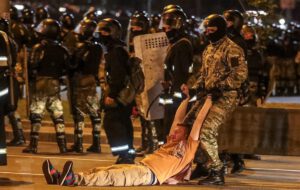 The police used flash-noise grenades and water cannons to disperse protesters during the protests due to which several agitators were left wounded.
(with agency inputs)